Thursday, August 11th, 2016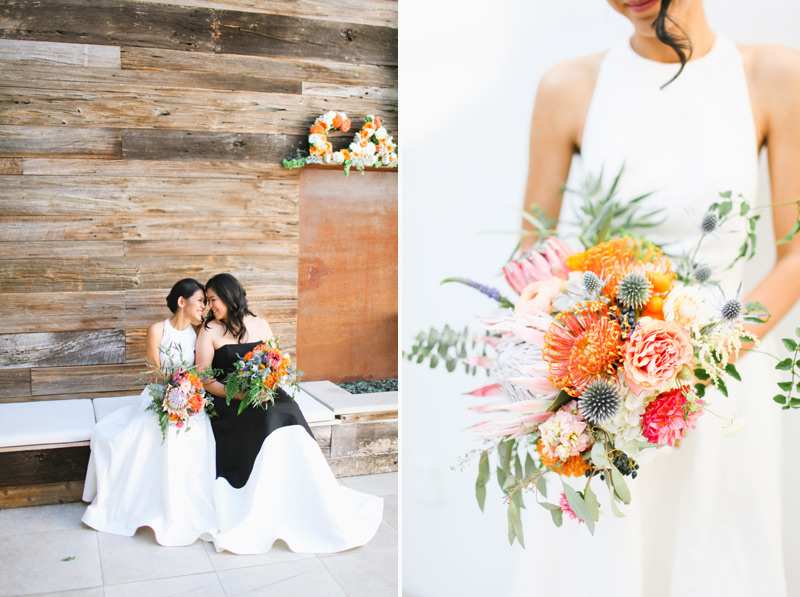 I almost don't want to write anything for this post. And just let the images speak for themselves. Because the day was filled with such an overabundance of love, such an overwhelming sense of joy – that I'd like to leave the words behind in hopes that these images do the day justice and that you can get a sense of how amazing it was just through the photos.
But I keep feeling compelled to tell you about certain things. Like how Ann and Connie designed and handmade almost all of the colorful and happy details you see below – the beautiful pillows, the adorable pom-poms that were thrown at the end of the ceremony, as well as of course the amazing invitations and programs. And how Ann's mother and sister came for the wedding all the way from Thailand. And how Connie's father learned and practiced a lengthy toast in Thai to welcome them. And how Connie wore her late mother's beautiful green ring, how rather than doing a bouquet toss each presented their bouquets to their sisters as a sign of love and gratitude, how they did a casual lounge style reception rather than the more traditional dinner. And how when we snuck away to do portraits at the beach and we found that the tide was higher than expected, both Connie and Ann happily gathered up their dresses, braved the waves, and ran around barefoot on the sand.
Can you feel the love in these photos? Because it filled up every corner of this little beachside inn. Connie and Ann have been together for years, which has led to a beautiful deep comfort and understanding that's so wonderful to witness. But there is also a way that they interact, that they look at each other, where it's like they just met and are still giddy with excitement and falling in love at this very moment.
This combined with an intimate gathering of their closest family and friends created a very special day. I feel so beyond blessed to have been able to document it.