Thursday, July 26th, 2012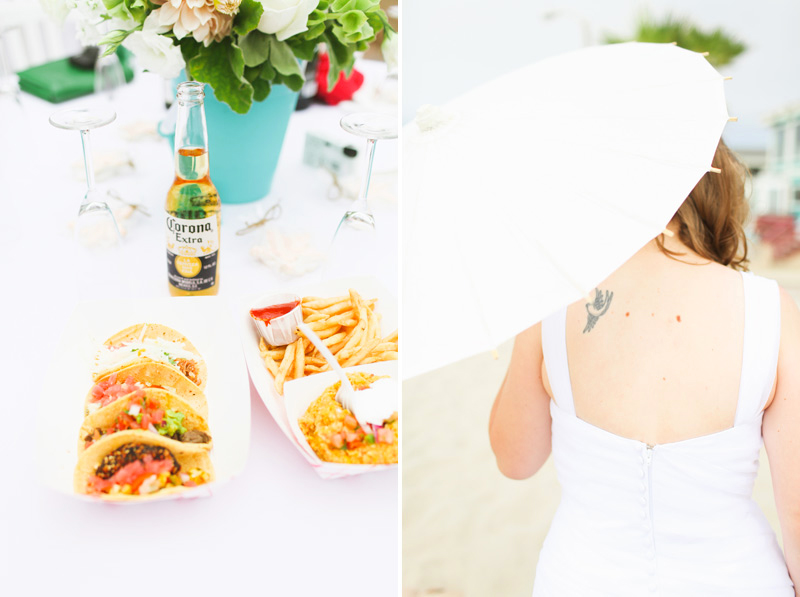 I've known Kristen since middle school, and from the very start of her wedding planning she explained she wanted something simple, relaxed, and super intimate. The result was spot on. Thirty of their closest family and friends, flown in from all across the country. A beach house right along the shore, so they could run out onto the sand for a quick ceremony. A taco truck to provide lunch, freshly made margaritas, frosty beers & waters in buckets, a hand-painted ice cream cart for desserts.
To pile more awesome on top of all of this, they asked for donations rather than gifts, and as favors, included personalized tin pails for everyone filled with both candy & seashells. Kristen and Cody had both chosen charities they felt passionately about, and we were asked to place our shells in the jar of a charity of our choice. For every shell in the jar, they donated $1 to the charity.
I was invited as a guest, but since they didn't have a photographer, I offered to bring my camera just to capture a handful of couple & family portraits. In the end, I found myself snapping away wayy more than planned, because of how organically beautiful everything was and how there seemed to be a piece of Kristen & Cody's personalities tucked into every aspect of the day. And that kind of wedding? It's always the most beautiful kind :)