Wednesday, September 23rd, 2015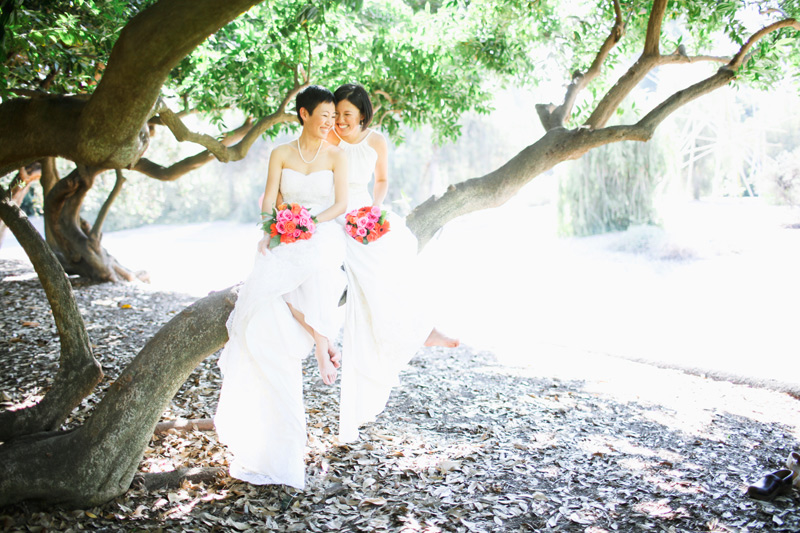 I'm not sure how to even begin to describe this wedding to do it justice.
Eileen and Gray contacted me to photograph their intimate Thursday wedding. In attendance would be just their immediate families – Eileen's side from so cal and Gray's from Hawaii. Unfortunately leading up to the wedding, they found that due to health issues, Gray's mother wouldn't be able to fly over and attend. A few days before the wedding, they called to tell me that Eileen's sister needed to be on bed rest due to her pregnancy and also wouldn't be able to be there.
Now let me tell you the part that despite these developments, this was one of the happiest and most joy-filled weddings I have ever photographed. Gray's father and brother flew in and thanks to technology, were able to Skype in her mother for not just the ceremony, but for the getting ready parts, after they got their make-up done, and put on their dresses. Eileen and Gray decided to get ready at her sister's place, so she was able to be a part of that portion of the day as well, and send her sister off with a hug before also being able to watch the ceremony via Skype. Every photo you see below with a person holding up a phone or an iPad means that on the other side of it was a loved one who could be a part of the day. It was literally one of the most wonderful things I've witnessed.
As if all of that wasn't special enough, during their portraits, Eileen and Gray asked me if they could climb a tree, and quietly sang to each other as they just enjoyed each other's presence. Then they walked back to their where their families were and in a small quiet clearing, did their first dance, to a song that Gray's brother had sang and recorded. Gray told me that it was the song her grandfather used to sing to her grandmother every year.
I could seriously go on and on about this day, but again I feel I can't even begin to describe the love that was there filling up every moment, in every corner. Thankfully there are photos to help :)